1
Renting a boat on the Shannon
Carrickcraft, Emerald Star and Silverline Cruisers all have wide a range of rental options from 2-10 berths. They know the area like the back of their hand and are happy to great tips on things to do, from a leisurely cruise to Banagher to a tour of Athlone and Hodson Bay. Most of the rental companies along the Shannon allow you to bring your pet along on your cruising adventure. 
Stay every night in a town or village or escape to the wilderness on remote jetties where you can cook and eat on board in the well-equipped onboard kitchen. 
2
Chinese Dragon Boating, Carrick-on-Shannon
Canoe boats with ferocious dragon heads on either end, roar down the clear waters of Carrick-on-Shannon. These Chinese Dragon Boats can be spotted on the river with a helmsman from Leitrim Surf Company steering the course, while the crew rows in unison to the rhythm of the onboard drummer. This is definitely one of the most unique ways to explore the waterways of Carrick-on-Shannon. 
3

Stand-up paddleboarding (SUP), Killaloe
Strap on a life jacket and set off on an adventure aboard your paddleboard. Stand-up paddleboarding, an old Hawaiian sport, is a memorable and surprisingly simple way to witness the indigenous beauty of the Shannon. Set off from the still waters of Killaloe and float under old bridges and into the wilds of the countryside. 
4
Holy Island, Lough Derg
This monastic settlement brims with history. From remnants of the Celts' potion-making equipment to the Viking raids of the 9th century, the stories of the Holy Island's past cling to the land. With the ruins of no fewer than six churches on this tiny but pious isle, its easy to see where this island got its name.  
For an expert's insight into this ancient monastic settlement seek out local historian, Ger Madden. His tours from Mountshannon bring this ancient monastic settlement back to life with his wealth of knowledge, and storytelling prowess. Keep a lookout for the white-tailed eagles, Saoirse and Caimin and their chicks, who have nested in the area.
5
Castle Island, Lough Key
The calm waters of Lough Key are dotted with small, lush islands and none are more intriguing than Castle Island. The abandoned, striking McDermott's Castle stands solely on this uninhabited island surrounded by mature trees and stone walls. Nearby Lough Key Forest and Activity Park is the place to go for anyone looking to learn more about the legend of Úna Bhán and makes a great base for a couple of days by the water. 
6
Baysports, Lough Ree
For something equally adventurous in County Westmeath head to Baysports, just outside Athlone. It's an exciting place that's perfect for families of all ages with an inflatable water park, kayak tours and pedalos. Kids, and adventurous adults, will love playing on the largest floating slide in the country. 
Watch the sunset and pastel sky as you stroll along the Floating Boardwalk at Acres Lake just outside Drumshanbo. It's a truly magical and memorable way to end your day.
7
Enjoy one of the great Shannon cruises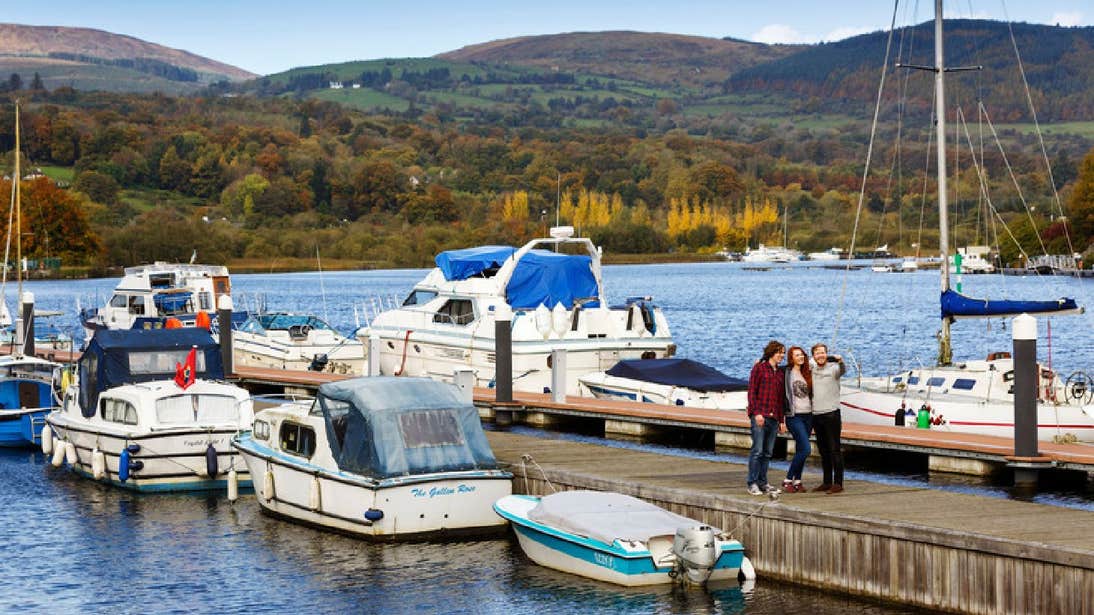 Really experience Ireland's longest river on a fantastic cruise on the River Shannon. Set sail from any of the hubs along the route and enjoy unbeatable craic in Carrick-on-Shannon, gorgeous views as you sail from Athlone and tasty lakeside meals in Banagher and Killaloe.
Check out our guide on the best River Shannon cruises and plan your dream holiday.
8
Walk the floating boardwalk on Acres Lake, Drumshanbo
Head to the Shannon Blueway just outside of Drumshanbo and experience one of the most unique walks in Ireland. Making up part of a larger 6.5km walk is a wonderful 600m long stretch where you walk on a floating boardwalk across Acres Lake. Surrounded by the sounds of water gently lapping up against the boardwalk and birds singing in the sky, this relaxing walk is ideal for your next trip to Leitrim.
9
Go fishing on Lough Derg
Pack your rod and visit Lough Derg for a great fishing holiday. Base yourself in Portumna at the north of Lough Derg or stay in Killaloe and Ballina to the south. The waters here are well stocked with salmon and bream, but as every serious angler knows, it's the brown trout and pike that attract people from all over the country.
Rent a fishing boat from Shannon Boat Hire and cast your line in every nook and cranny of this gorgeous lake.
10
Go swimming in Mountshannon
Visit a stunning award winning beach in Clare and go swimming in Lough Derg. The chilly and clear waters of Mountshannon Beach are perfect for an early morning swim with friends, and afterwards, warm up a coffee and treat at the nearby bakery. 
Remember to be safe when you swim, never go alone and make sure to always swim within your ability.
Plan your holiday in Ireland's Hidden Heartlands
Whatever your preferences, the River Shannon and stunning lakes in Ireland's Hidden Heartlands are filled with breath-taking vistas and enriching experiences that will leave you intrigued, relaxed and looking forward to your next trip back.